Front The Most 2012 has closed it curtains with the glorious victories of Le Ho Thu Giang (Foreign Trade University) - First prize, Do Dieu Anh (Foreign Trade University) – Second prize and Pham Tam Anh (Foreign Language Specialized School) – Third Prize.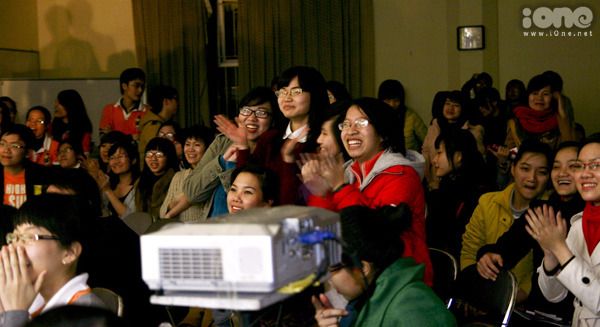 Last Saturday, March 10th, VJCC Hall – FTU was overcrowded with 350 people coming to watch the most expected MC contest of the year – Front The Most 2012 the Finale. EC-FTU was very honored to welcome special judges – Mr Minh Tiep (Director of MTS – MC and actors training center), Mr Le Anh (professional VTV MC) and Mr Jacques Soulière (The head teacher of GLN English School). Even better, Ms Diem Quynh – vice director of the Youth Union – VTV6, kept her promise from our Seminar and showed up gracefully as the final judge of the contest.
The show started with an exciting dancing performance that really set the atmosphere on fire.
Ten finalists then took turn to walk onto the stage and host a show on their own that they had picked at the SOLO part. FTM's format this year has had a big change as contestants didn't only have to deal with trouble makers on stage but he/she also had to follow the order of a Director over a walkie-talkie to their earphones. This change made the contest even more interesting and professional.
After watching their performance, Mr Minh Tiep showed his deep impression for the ten young and talented "MCs" and confessed that he would not have been able to shine on stage like they did if he were at their age. Ms Diem Quynh added that she was so happy and proud of these young contestants.
The beautiful melody of "She" at the break time could not cool down the heat of VJCC Hall when the MC announced the 5 best contestants that continued to go on to the DUO part. In this part, Thanh Nam, Hoang Quyen, Tam Anh, Dieu Anh, Thu Giang had the chance to host a show with one of the professional VTV MCs: Mr Duc Bao, Mr Manh Tung and Ms. Phuong Anh.
The girl speaking English at lightning speed, Hoang Quyen and her partner – Mr Duc Bao hosted the Yummy Dishes and brought great laughter to the audience. After that was the impressive show "Way to Olympiad" hosted by Mr. Charming Thanh Nam and MC Manh Tung.
The audience couldn't help but "WOW" at the funny and professional performance of Thu Giang and her partner – MC Phuong Anh with "Healthy Life". After that, the youngest contestant – Tam Anh successfully interviewed a celebrity with some personality exploring questions in the show "I'm ME" with Mr Duc Bao. And finally, the girl with such a bright smile, Dieu Anh, ended the part with her show "I ♥ Couples" with the funny MC Manh Tung.
Mr Le Anh (professional VTV MC – one of our 4 judges) shared that he was so impressed by the contestants' performance, especially how Dieu Anh dealt with the trouble in her show.
And finally, the moment of truth – The whole audience at VJCC Hall seemed to break out in enormous cheering and applause when the MC announce the winners of FTM 2012.
The first prize goes to Ms Le Ho Thu Giang (Foreign Trade University)
Second Prize: Ms Do Dieu Anh (Foreign Trade University)
And Third Prize: Ms Pham Tam Anh (Foreign Language Specialized School)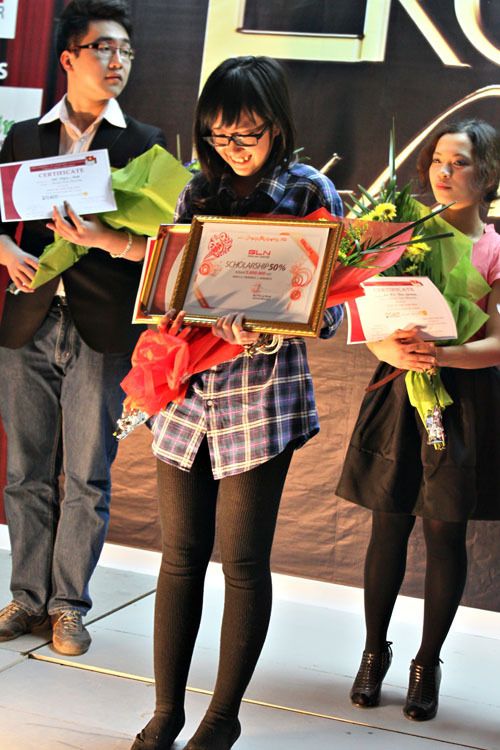 Congratulations to all contestants! It doesn't matter whether you win or not, EC-FTU and the judges are so proud of you and wish you all the success in following your dream to be professional MCs in the near future.
Moreover, EC-FTU would like to extend sincere thanks to the Gold sponsor GLN English Center; Silver sponsors Topica Education Group, Education First Organization; Specialty sponsor MTS Company and Media Sponsors – Ione.net, VTV6, VTC10, VNmedia, Saga and Youth Space Online Magazine.
Last but not least, EC would like to thank all of you, beloved friends for always loving and supporting us. Your presence at EC's events is our honor!
EC awaits you!
Come as guests, stay as family! >:D<