Do you know that being a member of English Club of Foreign Trade University,
ECers have The TIME of Their Lives ?
T is for your True-self to be Discovered and Cherished
I for cozy Intimacy and Friendship
M for the Unforgettable Moments with friends
E for Once-in-a-lifetime Experiences gained
What about you?
Come to EC!
2011 RECRUITMENT
EC wants You!

Be Our Next Generation!
In order to become an EC bee, you have to pass the following four rounds:
Round 1 – Application: August 25th – September 16th, 2011
ONLINE: online application form is available on http://events.ec-ftu.org/other-activities/
If you have any extra materials, please send us via e-mail: ecftu.info@gmail.com (with the subject named in the format: EC_AF_fullname; e.g. EC_AF_nguyenngoctu)
or OFFLINE: Take our Application Form at EC's Office or B109 (Youth Union's Office), fill it and submit at EC's Office. You can also print out the AF (attached below) yourself.
THINK OUT OF THE BOX and Be the Unique One!
EC appreciates the creativity you express in your own application form.
You can do anything to persuade us to choose you as a member of our next generation.
Here are just a few suggestions:
Write a short essay (E.g.: Reasons why you want to join EC and choose EA/ IT/ ORG/ PR/ PRO department; How you picture your next 5 years…)
Submit something handmade or something designed or created by you (like poster, card, video clip, website…) (Especially recommended for PR and IT applicants)
Round 2 – EQ + writing test: September 20th, 2011
20 best papers will receive 20 passes of IELTS Mock exam, each worth 300,000 VND, (20 phiếu thi thử IELTS trị giá 300 000 đồng) at Youth English School
Round 3 – Teamwork: September 25th, 2011
Round 4 – Interview: September 28th, 2011
To discuss this event, please visit EC Recruitment 2011 Discussion Topic on our forum (ask any questions, chat about our recruitment, etc.)
Don't forget to come to our specially-for-you Workshop College Survival at 6pm, September 6th, venue A101, FTU to get EC's guide for your University life.
What are you waiting for?!!!
Don't hesitate! Let's together make these students years The TIME of Your Life!!
EC AWAITS YOU!!!!!!!!!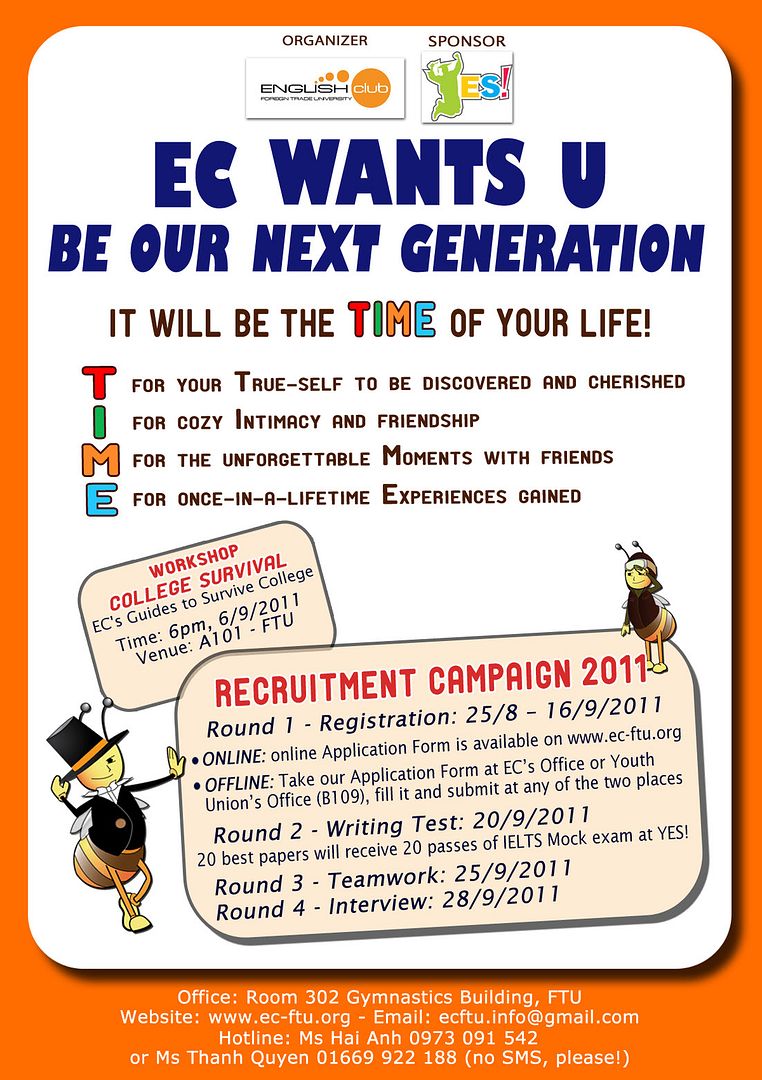 EC's Office: Room 302 Gymnastics Building, FTU. (Phòng 302, nhà tập, vuông góc với nhà G)
Hotline: Ms Hai Anh 0973 091 542 or Ms Thanh Quyen 01669 922 188 (no SMS, please!)
Special thanks to Youth English School (YES!: www.anhngutre.vn) – the Golden sponsor of EC 2011 Recruitment!
Attached Files:
EC 2011_Huong dan chon ban.pdf downloaded 869 time(s)

EC-FTU_2011 Application Form.pdf downloaded 488 time(s)