CHRISTMAS – WARM HOMECOMING
Although Christmas time is gone and New Year is coming, the atmosphere of Christmas Homecoming Party will never be gone. That's the moment when sweet love and cozy friendship pervade everywhere and burn inside everyone coming that unforgettable night.
It's unbelievable but it's real, that all of you did form your own new family named: the Clause, the Fruit, the Bees and the Baubles. You had to find your family members and draw the family trees to understand more about the relationship in your family. And can you imagine the family of Fruit?? There are so many fruit there and if you are a member of the Fruit, you're sure a banana or a bean. Unluckily, in some cases, your families are such huge ones that you couldn't remember all the names and then you lose the games
Here is a member from the Babbles and she is wondering about her family members' names too. Everyone wish to have Xmas corner for your own and let's have a look at the corner of these 4 families. They were in such a competition. Their corners varied in many styles.
The Clause seemed to be very patriotic when singing out lout the song "Nhu co Bac Ho trong ngay vui dai thang.." in order to cheer up for the final match between Thailand & Vietnam in AFF Cup. They were so generous when fixing the 50k and 10k on their corner and said: "that's the Portrait of Uncle Ho, Uncle Ho is every where, Uncle Ho muon nam"
One girl in the Baubles is telling about her favorite corner with something like fried chicken and the twinkling candle around, especially the gifts.
Now EC create a new way of exchanging the gift: GO FISHING THE GIFT or we call GO GIFTING. Isn't it much funnier than just giving and taking back the gifts only??
Wow, let's see, all people had lovely gifts then.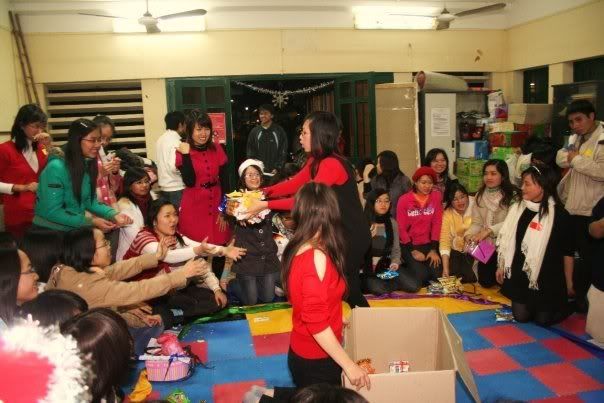 Coming that night, you could enjoy the dance performance of 5 hot girls in Red vs Black. There they are behind the screen, still as hot and attractive as on the stage.
And more, more games like TASTE and GUEST the food, or Wrapping the Gifts. No word can describe the "CRAZY" mood of that Christmas Coming Home and no one can stop telling about their love toward others by thousand of hugs, hand shakings and photos.
Christmas with family is warm and sweet, right?? Sure:X
All for a beautiful up-coming year!